If you have a passion for sport and love snapping photographs, becoming a sports photographer may be the perfect career for you. Sports photography requires considerable skill as it involves capturing targets moving at different angles and high speed. If you are a budding sports photographer with a drive to capture exciting athletic events, this article should provide some solid guidelines on how to become the best in your field.
Have a Keen Interest in Sport
It may sound obvious, but an interest in sport is vital in making it as a professional sports photographer. If your motivation is predominantly financial, you are unlikely to possess the necessary skills to get ahead of the pack. Photography of any discipline is highly creative, and a love of sports will help you capture the energy and essence of the action contained within your stills.
If a photographer has in-depth knowledge of the sport he is photographing, he is far more likely to get the perfect shot. For example, if you specialise in winter sports, you will need to anticipate the speed and trajectory at which the skier/border will hit the jump to capture them in the air at the opportune moment.
With a large amount of photo editing technology available today, budding photographers can fall into the trap of relying too heavily on post-production editing using tools such as Photoshop. It is important to spend considerable time observing your subject matter, so when an important moment arrives, you are ready to capture the winning shot.
A word of warning though, if your incentive to become a sports photographer lies solely in getting a free ticket to your favourite matches, this will not get you very far either. Top level sports photographers will often have an idea of the photo they want before kick-off and will spend the game concentrating fiercely to anticipate a players' next move. You cannot afford to get lost in the enjoyment of the game as you will miss key opportunities.
Network! Network! Network!
When launching your career as a professional sports photographer, being tenacious in putting yourself out there is vital. You should start building a portfolio of your best shots to showcase your work to others. If you do not want to lug around a physical photo album, creating a digital portfolio and storing it on a USB stick is the perfect solution. USBs can be handed out at the match side-lines and should generate some fantastic new business leads.
You should also be prepared to talk to anyone and everyone about your photography. Speaking to fans and players at local sports matches is a great way to generate interest and will rapidly build up your client base. You should make calls to local newspapers and agencies to seek out new clients in need of a sports photographer. If you initially struggle to get paid work, a great way to generate interest is to photograph your local team and provide images to their website free of charge. If you are talented sports photographer, this method will quickly generate paying customers.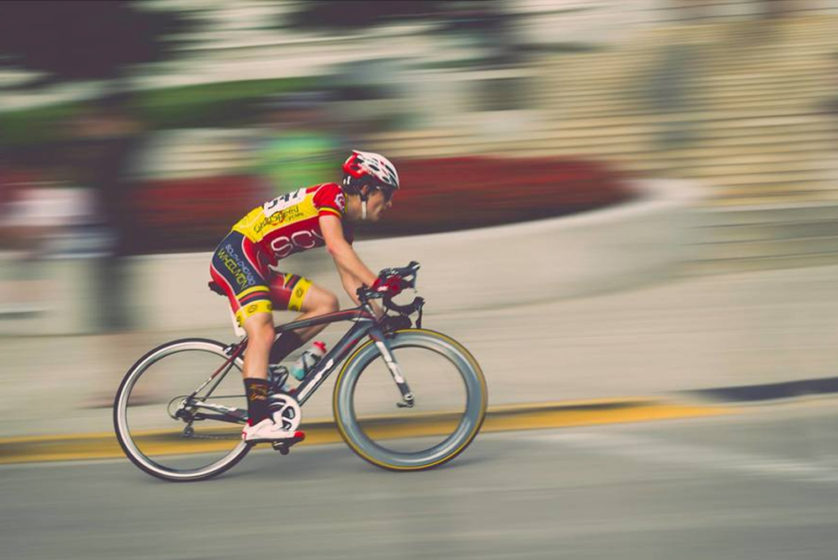 Adapt Your Photography to the Sport
When learning to become a sports photographer, it can be easy to pigeonhole yourself to capturing a single sport, but many top sports photographers cover a wide range of sports. This can significantly widen your circle of opportunities but you should not adopt a 'one size fits all' mentality when it comes to photographing different sports.
Professional photographers must learn to be adaptable depending on the sport they are capturing. For example, if you are photographing a Basketball game, height is key to get the best shot of the winning goal. However, if you are photographing contact sports like Rugby, getting as close to the ground as possible will ensure you get the best shot of the tackle.
You should also investigate purchasing specialised camera equipment designed for a certain sport. If shooting water or snow sports, waterproof gear is a must and will protect your equipment from getting damaged.
Learn to Shoot Subjects at Speed
Sports photography can provide a new challenge when compared with other types of photography as it involves shooting subjects moving at a rapid speed. To avoid blurry pictures, speed photography is a skill that will need to be mastered.
Setting your camera to a high ISO will allow you to take pictures at a higher shutter speed, meaning you have more chance of capturing the best photograph. Most good cameras now come with a highly attuned 'burst' mode meaning you can capture a range of motions and get a good series of pictures.
Find a New Angle
There are thousands of sports photographers across the globe and it is an extremely competitive field. To stand out from the crowd, you will need to find new or interesting angles for your photographs to keep them unique and interesting.
A good way to get inspiration for unique shots is to extend your range to the surroundings of the sport. By capturing the warm up, crowd, half time and aftermath of a match you can portray a strong reflection of the ambience of the day.
You should also consider a range of perspectives when taking interesting sports photographs. Framing your subject matter or shooting from a variety of levels can portray a well-documented subject matter in an exceptional way.
A good photograph capturing an important sporting moment can be iconic and talked about for generations. If you have what it takes, start honing your skills today and you could quickly develop an inspirational and lucrative career.